Conceria Rinaldi, the best of the footwear and leather industry.
Founded in distant1959, it represents one of the most interesting elements of the Tuscan tanning sector.

It has always been guided by a management staff comprising three family nuclei: Brillanti, Campigli and Rinaldi.

In the plants of the Conceria Rinaldi S.p.a, which currently cover an area of 15,000 square metres, the complex production path of treating pelts is carried out with a "COMPLETE CYCLE", the result of the fifty-year experience of the Partners and consistent technological, scientific and product research.

Application and constant commitment in the working of natural products of different origins and provenance, have lead to the creation of a vast range of leather ´classics´, destined for use in the footwear and leather industries.

Today, the tannery, thanks to a dynamic equip particularly attentive to market trends, has achieved a position of prestige in the world tanning panorama, demonstrating its ability to respond to the most varied and personal requirements of a both foreign and Italian clientele.
With the awarding of the Certification of Production System, in compliance with the regulation UNI EN ISO 9001:2000, it presents itself as a reliable partner in a constant commitment to the requirements and expectations of its Clients (punctuality of delivery and product compliance with requests).

To these ends, the Company has created internally a workshop where controls are carried out on finished products, in accordance with testing protocols IUP/IUF or UNI ISO, in order to check compliance with the requested requirements.
In 2007, in the heart of the Marche area, the new Warehouse with samples Showroom was inaugurated and which will permit the prompt satisfaction of the requests of an attached clientele.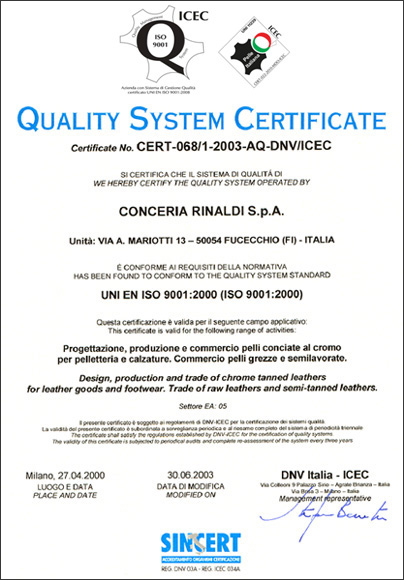 Certificate UNI EN ISO 9001:2001
(ISO 9001:2000)
of quality of the
Conceria Rinaldi S.p.A.
These are some examples of products made with our leather.

RINALDI Conceria S.r.l.
Via A. Mariotti, 13 - C.P. 245 - 50054 Fucecchio (FI)
Tel. +39 0571 242431 - Telefax + 39 0571 20175
E-mail: info@rinaldiconceria.com